As previously mentioned, I have bought a 1996 940 estate from RR forum so i can convert my 360. The plan is to have it completed within 3 weeks. This week is for stripping the 940.
I collected the donor from Nottingham yesterday and trailored it home. Big thanks to Mark for accompanying me and all of the subsequent help yesterday and today.

Also cheers to Conor for all of the help ferrying the cars about etc and letting me use your garage (even more) dude.

After some car shuffling the 940 was in my garage at home, my mates mk1 XR2 on a trailor to head south and for now my Primera project has been rehoused...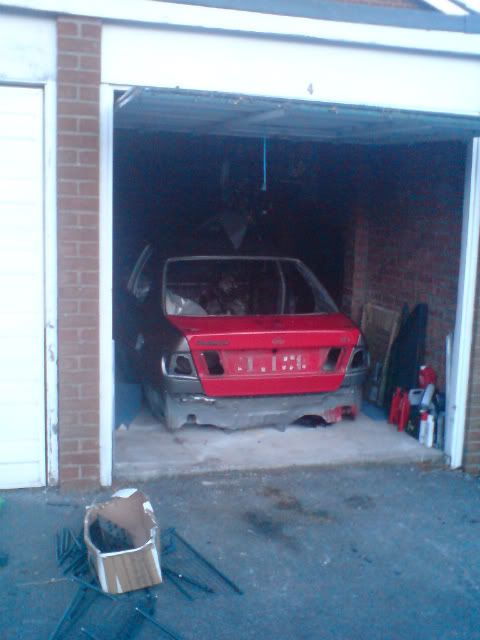 In my mates rented garage which is now Fiesta free.
Looking VERY sorry for itself! (part of the reason is to detract attention away from the people who were asking what was happing with the car/nice wheels etc. Make it look like scrap FTW)
These things really don't rust do they! I don't have a complete pic as I removed the headlights and grille for a mate from another forum.
The engine is sweet as a nut for having covered 200K miles. Very pleased with it.
Let the 'deconstruction' commence!
Large load space FTW.

"Come on Marge, it's fun to smash things!"
Wiring ID fail. This pleased Mark.

Stretch out the label and the joke is no more lol.
Where's the rust?! Every car should have some. :/
Until tomorrow...
Mark and I made awesome progress on it today. Having ID'd every wire inside the car bar what runs to the back (too much shit in boot to access) although we know it's rear wiper/heated screen/ABS sensors/fuel pump etc so it's all good. We started on the engine bay too. More progress to be made there tomorrow. I am doing it as Ron suggested, keep it running and unplug things. This method has already helped out with the immobilser pick up ring on the barrel and one of the alarm control boxes/ECU's.
The doors aren't fitted very well mind! Or maybe Mark is heavy handed?
Die Turbo Brick!


Cheers gents.