The ride is okay until the car hits big undulation at high speed, then you can feel it bottom out. I need heavier oil in the dampers, currently 30W and possibly cut the bump stops down a little.
---
Posts: 5
Joined: 19 Jan 2011 09:28 pm
Location: Hellas
very good job, I hop to do this job and in my volvo.

peter
---
After the whole screw up with the F7P and the turbo starting to show signs of letting go I decided it was time for something new and unique...
Renault 5 Gordini engine!
The plan is a mix and match of Gordini top end with 5 turbo/Volvo forged bottom end + fuel injection. Should hopefully be good for 200+bhp.
My turbo conversion parts will be up for sales if anyone is interested.
---
cool, this will interesting! You didnt convert a 2.0 though did you?
---
I thought I might share a few of my experiences here since my car has already been featured in the thread (the swedish B14 turbo...). Except that I'm running MS2 for fuel and spark, my conversion kit is very similar to brick340s conversion.
Originally, I used a stock B14 with about 190 000km on it, converted it to run E85 with MS2 fuel and spark with injector bungs welded to the stock intake. The turbo is a GT1849V from a GM 2.2l 122bhp turbodiesel (Opel Frontera, SAAB 9-5 et.c.). When I first started it up, I was too eager to drive it so I ended up destroying the poor engine, breaking a piston and destroying a big end bearing (as well as the head gasket...). With a new headgasket the car ran about 1000km before the turbo ate an M8 nut spelling the end of that turbo... After that, I continued to run the same engine for almost a year while restoring a new engine, all in all the engine probably ran about 10 000km sounding like a bag of nails and using about 1l of oil per 100km. It was slightly down on power as well...

The new engine (by now it has something like 15 000km on it) is a standard B14 block with a Turkish C2L crankshaft (84mm stroke, 1525cc) and Ford Zetec L1E pistons (compression ratio appx. 9.4) on slightly modified stock rods. That engine has been running flawlessly (apart from starter motors melting from the exhaust heat and other minor problems like that...) for a few years now, surviving 3 full trackdays at 0.6-0.9bar boost pressure. I'm am using much safer ignition settings now though compared to my first testruns...
On top of the trackdays, the car has also been used for towing for several thousand kilometres; the difference compared to towing with a stock B14 is amazing! With the turbo I rarely ever have to change down from fifth despite towing a 1000kg trailer up a long slope - without the turbo the car struggled to maintain speed in third gear!
This weekend I'm ripping the engine apart to inspect and put in a new set of rings and bearings (just to be safe); we'll see how things look then!
---
*** V3M DONOR ***
Posts: 5453
Joined: 25 Apr 2005 06:52 pm
Location: Anglesey North Wales
Contact:
Nice to see something being done with the 1.4

Everyone at the moment is putting bigger engines in and very few are actualy working with the B14.
Dai
Please email me directly on
dai@classicswede.co.uk
http://www.classicswede.com
phone/text 07824887160
Web shop
http://www.classicswede.co.uk/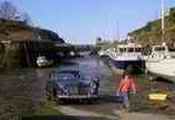 ---
Chris_C

*** V3M DONOR ***
Posts: 9551
Joined: 18 Jun 2004 11:53 pm
Location: Southampton and Isle of Wight, UK
Contact:
Great job, keep us informed as to how you are doing
'89(F) 340 GL F7R (ex B172k) - Fake -> SBKV 300 Runner Up 08, 12 - NASLR Time 15.7secs
'03 S60 D5 SE, '91 (J) MX5
Ex:
'91(H) 340 GL B14.4E - Kar; '88(F) 360 GLT B200E - Jet -> BKV 300 Runner Up 09; '89(G) 360 GLT B200E - Beast
---