There still seems to be a whole heap of confusion about exactly how the heater blower system works.
Let us take the example of a post 86 car.
The lower two speeds are controlled through a resistor unit located in the air inlet casing, along side and "downstream" of the blower fan. The high (full) speed does not pass through the resistive coils but direct to the blower through an "Otter" thermal cut out switch located in the same casing as the resistors. The output from the resistive coils also pass through this cut out.
Location of resistor unit,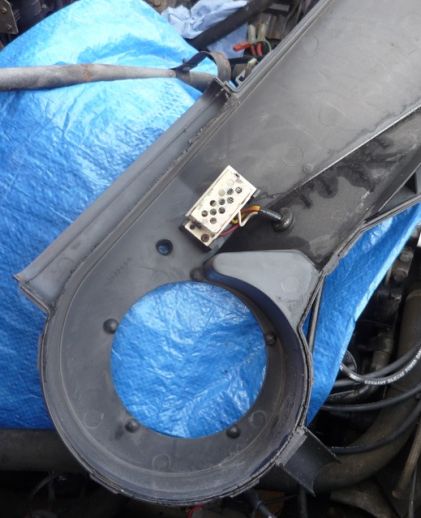 The resistor unit,
Resistor internals,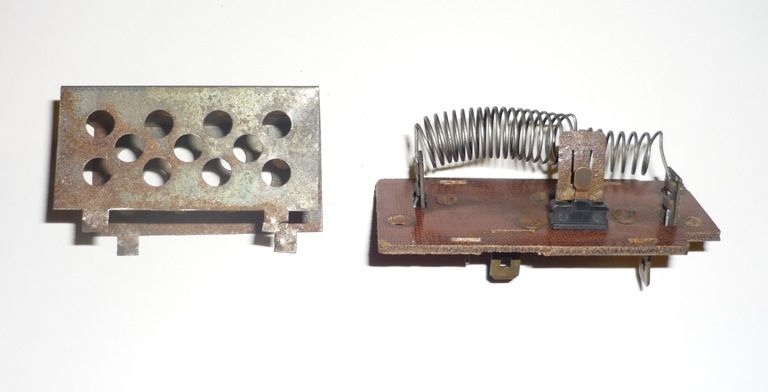 The wiring to the resistor unit consists of four wires - Red, White, Yellow and Orange.
The heater fan switch receives 12v+ from fuse19 which itself is supplied by the ignition switched 'X' relay in the fuse box.
Position 1 routes power via the WHITE wire, through both resistive coils, and out to the blower motor via the thermal cut out and the ORANGE wire.
Position 2 routes power via the YELLOW wire through one resistive coil, and out to the blower motor via the thermal cut out and the ORANGE wire.
Position 3 routes power to the pull in coil of an under dash relay. This relay (power contacts) is supplied with permanent 12v+ from fuse 12. The relay routes power via the RED wire, through the thermal cut out, and out to the blower motor again via the ORANGE wire.
The blower motor is connected via a (in the engine bay) two pin plug carrying the ORANGE wire from the resistor unit and an earth.
Work is being done to provide either remanufactured resistor units or some sort of exchange and rebuild scheme. I have removed the air inlet trunking/blower assembly from one of my cars and am setting this up in the workshop to enable me to accurately measure resistor pack temperatures under various conditions. (this should enable us to spec. replacement thermal cut outs correctly).
Mac.
Edited to correct error - the Green Book wiring diagrams are wrong. They show only the "full speed" passing through the thermal cut out. The diagrams show the RED wire supplying the blower - it is in fact the ORANGE. This makes much more sense as the cut out now protects all three speeds.
Thanks to Pettaw for putting doubt in my mind and making me do what I should have done - look at the car not just the diagrams!!!
Mac 19/04