I have got a 340 with f7p engine conversion could anybody help me on how to adjust idle speed please
---
*** V3M DONOR ***
Posts: 5453
Joined: 25 Apr 2005 06:52 pm
Location: Anglesey North Wales
Contact:
what fuel system is it running?
Dai
Please email me directly on
dai@classicswede.co.uk
http://www.classicswede.com
phone/text 07824887160
Web shop
http://www.classicswede.co.uk/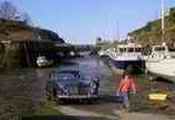 ---
The standard injection system with ecu
---
Alex Laidlaw

Posts: 230
Joined: 10 Nov 2009 01:54 pm
Location: Oxford and Worcester
There's no adjustment of idle speed, it should idle correctly if everything is present and correct. What is it actually doing?
---
It idles fast on tickover
---
Chris_C

*** V3M DONOR ***
Posts: 9551
Joined: 18 Jun 2004 11:53 pm
Location: Southampton and Isle of Wight, UK
Contact:
Could be a number of things. First thing I would check is that the idle air control valve takes it's air from the main feed to the throttle body, not a separate filter. It has to have some vacuum on that feed.
'89(F) 340 GL F7R (ex B172k) - Fake -> SBKV 300 Runner Up 08, 12 - NASLR Time 15.7secs
'03 S60 D5 SE, '91 (J) MX5
Ex:
'91(H) 340 GL B14.4E - Kar; '88(F) 360 GLT B200E - Jet -> BKV 300 Runner Up 09; '89(G) 360 GLT B200E - Beast
---
Ok thanks will try that first
---
Posts: 61
Joined: 29 May 2013 07:22 pm
does it drop below what you state is fast idle if it does then while engine is running pull one plug off at a time round the throttle housing if there is a change in engine behaviour this means that the sensor is working so try that its quicker
Volvo 340 2.0 Supercharged drift wagon
Volvo 850R 2.3 Turbo
Toyota Celica 2.0 Import
---